If want to make legit money blogging...
You probably already know other people that have started blogs, too.


But here's what you might not know:


Even if you're lucky enough to start, a lot of people quit early. Because they don't know how to create the success they see on webinars and on Pinterest. 


But I'm here to tell you something they didn't know. It's simpler than you think and what you can get out of your blog is life-changing. 


Here's what I know about blogging:


YOU CAN AFFORD TO START.
A blog can be started in minutes and for only 4 bucks a month to maintain. But it can yield six-figure or even seven figure income. Sounds like a great risk / reward opportunity, right?


YOU CAN MAKE MONEY FROM IT.
There are hundreds of ways to monetize a blog. There truly is no one-size-fits all approach to how you make money with your blog. And when you do a few different ways, that's when you really have a business that will not only support you--but you'll love.


YOU CAN FIGURE IT OUT.
A blog doesn't need to be the next Facebook or TikTok. In fact, less is more with blogging. The rules are pretty simple. You create content that helps people and solves a problem. If you can get that right, you'll do just fine. 


YOU WON'T BE ALONE.
Blogging might be new to you, but it's been around for decades already. It's a proven business model for a lot of people...like me! And now you!

SCREENSHOT: REAL RESULTS IN LESS THAN 1 YEAR
"I had been toiling away on a blog for nearly a year and a half with little to show for my efforts. Despite taking several blogging courses, I felt rudderless and wasn't getting very many page views from the search engines.


Pageviews to Profits was the roadmap I needed to take my blog to the next level, to finally start seeing some real progress. The course outlined an easy-to-follow system for targeting the right keywords, building domain authority, and other important things to turn my blog into a legit business."
-Cy, FrugalBudgeter.com
Raise your hand if this sounds familiar:


I started my blog as a hobby but now I want it to make money.


Trying to start a blog seems really confusing. I have a great idea but the thought of going through with it just stresses me out.


I started blogging then stopped. Then started again. Currently somewhere in the middle.


I hear you.


When I started blogging, it was really overwhelming.


But all that changed in 2018
.


That's when I got serious for the 1st time about blogging. I learned about SEO, keywords, and collecting email subscribers. 


And something magical happened:
•
My traffic started taking off. I went from 10k users to 50k...100k... 200k. 
•
My email list grew into the thousands.
•
And revenue took off. I started making $10,000+ per month from my site. 
It wasn't long before people started contacting me about buying my blog.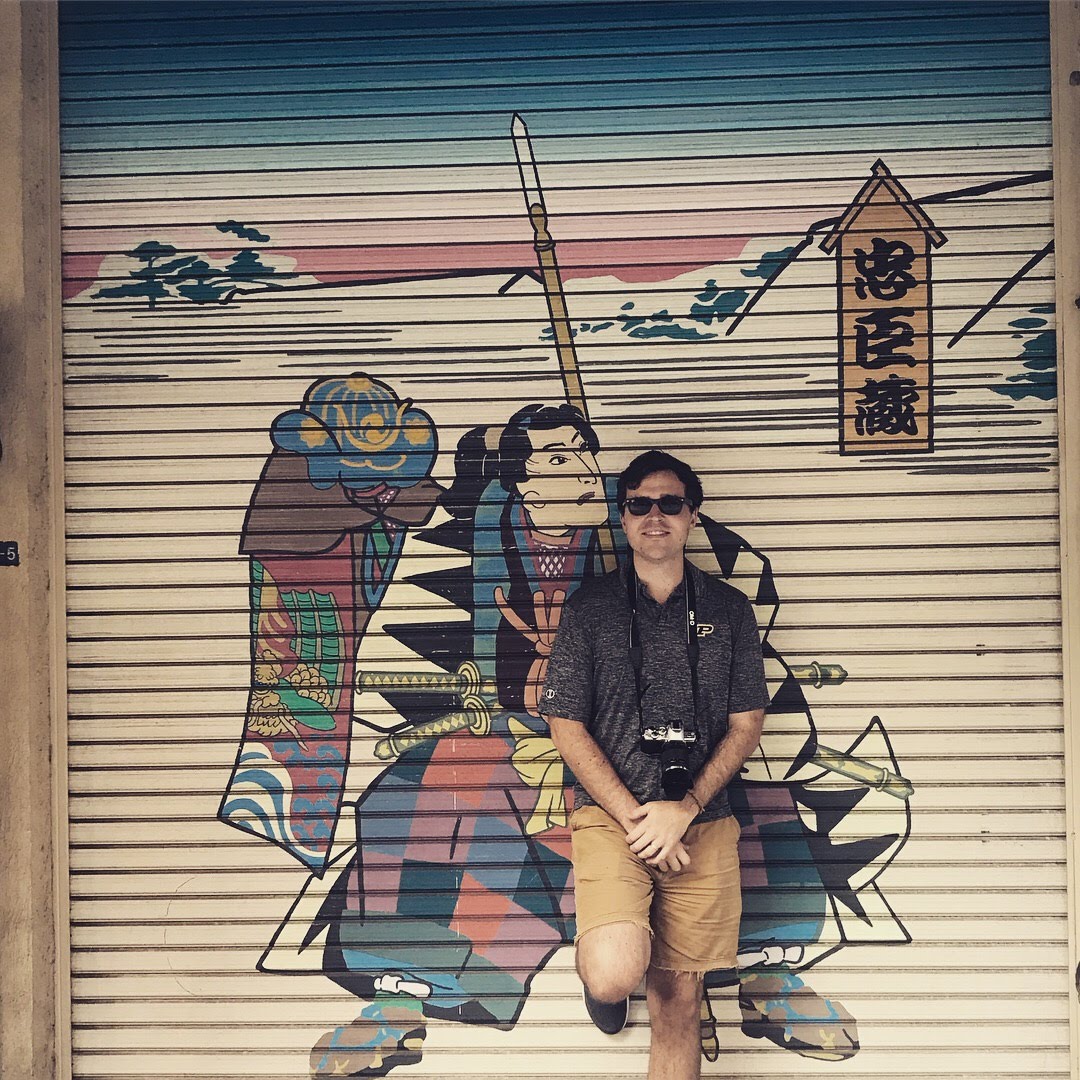 And in 2019, I sold that blog for $200k.
Then in 2020, I sold another for $45k.
As it turns out, blogging can be really fun and lucrative!
Now...
• I don't stress about how much money my job is (or isn't) giving me.
• I enjoy more time with my wife.
• I go on vacations all across the world.
I have my blog to thank for that.
Everything you need to start a blog that makes money (and isn't complicated.)
Pageviews to Profits
is an online course designed to simplify the process of getting your blog up and running.


By the end of the course, you'll be able to:
• I
ncrease your traffic
•
Get people on your email list
•
Build an actual business by learning the exact steps I took to build my blog to $10k/month
Enroll now and get access to these bonuses. 


There's so much more to the course than the curriculum... By purchasing Pageview to Profits, you gain free access to these helpful bonuses.
Bonus #1: Access to a Private Mastermind Group ($500+ value!)
This is by far my favorite benefit. You'll join our exclusive mastermind group for FREE. You'll get the chance to meet, work and grow with other bloggers to achieve the level of success that you want.
Bonus #2: Free Group Coaching Sessions ($300+ value!)
This adds, even more, value to the course. I want to help you with your blog so that you can increase traffic, your income, and so that you can help your followers, so what's better than this? Each month there will be a group coaching session. These exclusive group working sessions where you can ask questions directly to me about building and growing a website. You'll also meet some other amazing students that will give you the opportunity to grow your website together.
Bonus #3: On-Page SEO Checklist PDF ($47 value!)
You'll get access to my exact checklist that I use to ensure every article I write is optimize to rank in Google. You'll never miss a step with writing content that can rank and generate organic traffic into perpetuity.
Bonus #4: How to Determine Blog Post Profitability
Each blog post is a piece of value that makes up the entire value of your website. Your time is valuable too. Learn how to write blog posts that will actually translate into profits for your website.
Hint
: It's much more important than simply thinking about display advertising revenue
Bonus #5: What's Better Than a Surprise?
I strive to provide the best and most helpful content out there. I truly love doing this and helping people. You'll never know what you are going to get in this course.
That's over $800 in bonuses.


You get lifetime access to everything for $197.
100% satisfaction guarantee.
If for any reason you take a look at the first module and don't like it, just let me know within 14 days of your purchase and I'll refund you. No questions asked. 
So what are you waiting for? Be one of the first to enroll today and get over $1,000 in value for only $197
Ready to Build a Legitimate Online Business?
Frequently Asked Questions
What if I'm a brand new blogger?
No problem at all! Pageviews to Profits is everything that you need to know about scaling a website for traffic and then navigating your site for maximum profitability. It's all about creating a website that can become a full-time online business or passive income opportunity. By taking this course, you will start off blogging the correct way. You'll have a ton of actional tips and tricks at your disposal and you'll be ahead of the game!
What if I've been blogging for years?
That's no problem at all! Actually, it's probably a good thing. Blogging is always changing and requires fresh perspectives to stay relevant. Most of these strategies, tips and tricks are foreign language to even advanced level bloggers.
When does the course start and finish?
The course starts now! It is a completely self-paced online course - you decide when you start and when you finish.
How long do I have access to the course?
Right now you get lifetime access! After enrolling, you have unlimited access to the course for as long as you like - across any and all devices you own. Down the road, that might not be the case for new students, so get in now. You won't have to pay a penny for any updates, though. Once you purchase, you will receive all updates for free.
How is the course content delivered?
Pageviews to Profits is an interactive course that is taught through videos, PDFs, tutorials, and text-based tips. You won't be able to find anything like it. This isn't an ordinary course that features text-based content condensed from sources around the internet. This features long-form videos that will show you exactly how you grow your blog.
This includes screensharing so you get the exact tips! Not some vague answer.
What niche is this course good for?
The lessons in this course can be applied to any blogging niche. Whether you write about travel, RVing, personal finance finance, family, fashion, DIY, food, underwater basket weaving or anything else, you are able to apply everything your learn to scaling your website to make legit money online.
Does this course work for those outside of the United States?
This course is applicable to anyone in any country. Period. You can use the strategies and tips in this course and apply it to any website that you want to grow and build with success. I've had numerous people from all over the world join the course.
What platform should I be on?
The strategies you learn here can apply to nearly any digital asset on the internet. If you are a blogger, that's great and it can be on WordPress, Blogger/Blogspot, Squarespace, Weebly, and more. Even if you are not a blogger, there are a ton of things that you will learn that can be applied to websites, software, social media, etc.
Do you offer refunds?
I would never want you to be unhappy! If you are unsatisfied with your purchase, contact us in the first 14 days and we will give you a full refund. But, you must show me that you went through the course and took action, because none of the tips and methods I share will work without you taking the time to implement them.
My question is not listed.
If you don't see your question here, please send me an email at [email protected], and I will send you the information you need! Also, you can contact me at FinancialWolves.com